Roof Ice Melting System - Colorado Homes & Commercial Properties
Professional experienced technicians are ready to install your roof ice melting system in Colorado.
Roof Ice Melting Systems by Alpine Ice Solutions, LLC
Prevent destructive Roof Ice Dams and Icicles on your home or business.
Alpine Ice Solutions manufactures an effective, safe and reliable Roof Ice Melt System for preventing Roof Ice Dams and Icicles from forming along the roof edge and roof valleys of your home, or commercial building, during the winter months.
Home owners, property managers, and building maintenance engineers, value the quality, energy efficiency, and performance of the Alpine Roof Ice Melt System.
• Innovative Heated Roof Panel designed exclusively by Alpine Ice Solutions
• Prevents water damage inside your home or business caused by Roof Ice Dams
• Prevents property damage and personal injury liability caused by dangerous icicles overhanging walkways and driveways
• (Insert "Exclusive Features" from Alpine Product Brochure)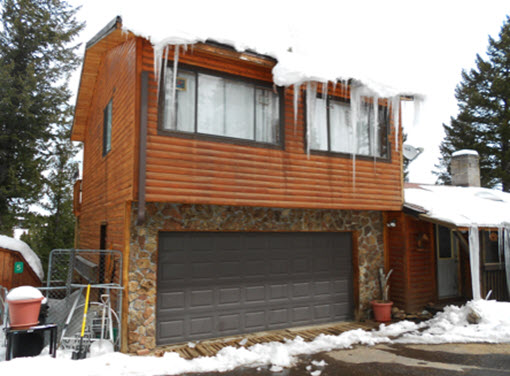 Alpine Ice Solutions, LLC Roof Ice Melt System Solves Ice Dam Problems
Innovative Proprietary Design For All Roof Types
Designed to prevent icicles and ice dams from forming on roof eaves and valleys. The system was designed and developed as an effective alternative to the poor performance of traditionally used "zig-zag" pattern roof heat cable systems. The system integrates commercial grade, Self Regulating Heating Cable into Metal Heating Panels, utilizing 100% of the available heat energy. Alpine Ice Solutions Heated Roof Panels are designed for all types of roofs including Asphalt Shingle, Metal, Concrete Tile, Wood Shake, and others.
Superior Ice Prevention
Heated Eave Panels prevent ice dams and icicles from forming on the edge of a roof by heating the entire drip edge of the roof. Heated Valley Panels prevent ice dams from forming in roof valleys. Heated Utility Panels are used to prevent ice formation along walls, chimneys, skylights, etc, and also used to provide a snow melt path from a downspout discharge onto a lower roof. Self Regulating Heat Cable is included with the system for all associated gutter and downspouts to provide continuous melt path to the ground level drainage.
Effective, Energy Saving Alternative to Zig-Zag Heat Cables
The Roof Ice Melt System developed by Alpine Ice Solutions is an effective, energy saving alternative to traditional zig-zag heat cables. The Alpine Roof Ice Melt System was designed to prevent Roof Ice Dams especially in heavy snowfall areas, including Colorado's Ski Resort mountain communities of Breckenridge, Copper Mountain, Vail, and Winter Park, Colorado.
Prevent a range of problems related to snow and ice build-up.
In addition to eliminating heavy Roof Ice Dams and icicles along the roof edge, Alpine's Heated Valley and Utility Panels are strategically placed to prevent ice from forming along walls, chimneys, and skylights. The multi-functional heated panels are used to create a path for snowmelt from a downspout discharge onto a lower roof.
No more climbing on the roof to clear the snow!
The Alpine Roof Ice Melt System eliminates the need for you—or someone you hire—to climb on the roof after a snowfall to clear the snow. Pushing wet, heavy snow off a roof is difficult, dangerous that also carries the risk of falling. Chopping ice off of roofs with pick axes and hammers can damage the roof. The Alpine Roof Ice Melt eliminates the need to get on the roof in the winter to remove ice. And if you're away for the weekend, you can travel without worry. Snow and ice will not collect while you're out of town.
Heated Roof Panels: Best Solution For Ice Dam Problems
Alpine Ice Solutions, LLC
12960 West Burgundy Drive
Littleton, CO 80127
© 2019 Alpine Ice Solutions, LLC