Read about Alpine Ice Solutions, LLC
More about Lenny Shortino Owner of Alpine Ice Solutions, LLC
About Alpine Ice Solutions, LLC in Littleton, CO
Lenny Shortino – Alpine Ice Solutions, LLC
Lenny Shortino started Alpine Ice Solutions after years of experience preventing Roof Ice Dams for Ski Resorts in the Colorado Rocky Mountains.
Recognizing that the previous method of preventing Roof Ice Dams was not effective, Lenny designed and developed an innovative new product, the Alpine Heated Roof Panel.
The Alpine Heated Roof Panels were installed and tested in the harsh winter climates at major Colorado Ski Areas. The results showed that the Alpine Roof Ice Melt System was effective and efficient at eliminating Roof Ice Dams.
Since 2010, hundreds of Colorado residents and building owners have made Alpine Ice Solutions the number one solution to Prevent Roof Ice Dams.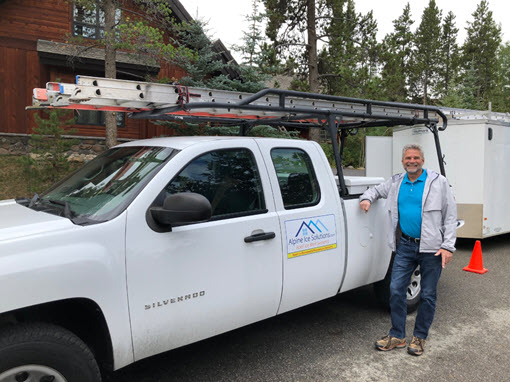 Alpine Ice Solutions, LLC
12960 West Burgundy Drive
Littleton, CO 80127
© 2019 Alpine Ice Solutions, LLC